NRA Instructor Pistol Course
TRAINING CREW teaches the NRA Pistol Instructor Shooting Course  throughout the year please send us a message via the contact page for more information.

If you want to become a certified NRA Pistol Instructor this is the class you need.
Seating in this course is STRICTLY limited and is offered first come first served.
All NRA per-qualifications are mandatory.
For more information call 214-444-8821 or email us @ info@trainingcrew.com
This class will satisfy the requirements set forth by Texas DPS to move forward and become a Concealed Handgun Instructor (CHL) with the state of Texas.
To successfully complete this course you MUST:
Demonstrate the proper Knowledge and Skills be a pistol instructor
Demonstrate the proper ATTITUDE to be a pistol instructor
Demonstrate safe gun handling skills at all times
Maintain safe muzzle discipline at all times
Successfully complete the Basic Instructor Training (BIT) if you are not an NRA Instructor that has had BIT in the past two years.
If you have had BIT in the past two years and successfully completed the BIT this will be verified.
Successfully complete the per-qualification requirements outlined in the checklist
Attend the entire class
Not have any SAFETY VIOLATIONS in the classroom or on the range
Participate in the classroom activities and assignments
Successfully complete the Pistol Instructors Test with a 90% or better.
Be an American Citizen, who can purchase a firearm on a BATF Form 4473
Be 21 years of age to become a Certified Instructor, if seeking Assistant Instructor contact us for details.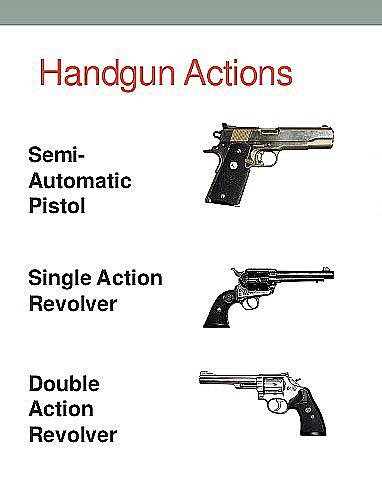 You must be able to Load and Unload the following types of handgun action types:
Single Action Revolver
Double Action Revolver
Semi-auto Pistol.
You must clear malfunctions on ALL handgun action types.
QUALIFICATION and Classroom Shooting:
If you read the per-qualification checklist you downloaded you will notice that you have to perform a qualification shooting component and successfully complete the qualification to pass the course.  As per the outlined instructions on the per-qualification checklist you may challenge the qualification shooting with ANY handgun of your choice.  It is highly recommended that you might utilize a .22 caliber rim fire handgun and all though this is a recommendation it is NOT mandatory you may shoot what ever you wish.
You will be allowed to challenge the qualification shooting THREE TIMES ONLY during the class.
During the qualification shooting and classroom shooting we will NOT be using bulls-eye targets we will shoot ONLY AT BLANK PAPER as a target.
WHAT TO BRING
A handgun of your choice for shooting the course qualification. (rimfire is recommended but not mandatory)
A handgun of your choice for the purpose of teaching new shooters, rimfire recommended – all classroom shooting will be conducted with rimfire handguns.
ALL firearms MUST be cased in a box, handgun case or in a range bag.

DO NOT bring firearms into the classroom until told to do so.

NO LIVE ammunition in the classroom.

Enough ammunition to complete the qualification 3 times if needed, 75 rounds recommended
Enough ammunition to complete the classroom shooting component of the course 50 to 100 rounds.
It is encouraged and recommended that you test your firearms prior to coming to class to ensure they are functioning correctly and in good working order.
Firearms and/or Ammunition that show a pattern of malfunctions and/or problematic behavior will be disqualified and removed from the range to keep the class moving.  It is recommended to test your equipment prior to coming to class.
Eye Protection – MANDATORY
Hearing Protection – MANDATORY – electronic hearing protection – recommended
Appropriate Range attire, no open toe shoes
A hat with bill or brim is recommended
Bottled water
Sun Screen if needed
Bug Spray if needed
WHAT NOT TO BRING
EGO – everyone in the class is present to learn we all need to check all ego's at the door – professionalism is the theme of the day.
Poor or incorrect Attitude
Lasers
Race Guns
Suppressors
Antique Firearms
Firearms with mechanical issues – problematic and/or unsafe firearms will be disqualified.

DO NOT bring firearms into the classroom until told to do so.

NO LIVE ammunition in the classroom.

If you carry concealed you must leave your firearm in your vehicle.  This is applicable to everyone including Military/LEO.